The 6 Week-long program is designed for participants aged 9+ who want to learn how to paddle in sprint boats or improve their skills.

Cost: $450. Runs for 6 weeks: July 3 to August 11.
New and returning paddlers aged 10+ are eligible. It is recommended but not required to attend everyday. Statutory holidays are not included.

Participants will cycle between three stations with their coaches; on-water, cooperation games, and body weights. These stations are completed once before lunch and again after. There are different themes each week that will be incorporated into their activities, and on Fridays, the 6-week group program joins up with our Summer Day Camp to have a "Fun Friday."

SACKC also offers bantam programs in the spring and fall, where participants meet twice a week with their coaches to have a quick body-weights workout and a paddle on the lake at Cardiff. The interested participant will be invited to continue training to join the Bantam group till the end of summer.

Within sprint programming, participants MAY be asked by coaching staff to train with a different age class. These decisions will be at the discretion of the club Head Coach and will be based on ability, maturity, and appropriate athlete development. These training groups will be set by the Head Coach and his/her staff at a time they deem appropriate. Parents of the athletes being asked to move training groups will be consulted prior to moving any athlete.

It is the goal of the GERCKC to prepare athletes for long-term success in sport. Our program framework is supported by Canoe Kayak Canada's Long Term Athlete Development Plan and is intended to help our athletes progress to their full potential.

All canoes, kayaks, paddles, and PFDs will be supplied for use during camp hours. Throughout the season, campers will explore Cardiff Lake with qualified instructors. Along with their peers, campers will have a great time challenging their own abilities while developing self-confidence and teamwork skills. We keep low ratios to ensure each participant enjoys an optimal training experience.

Competition:

All campers will tentatively be invited to participate in the following local regattas:

- Edmonton Cup 1 : Saturday - August 7th from 9 to 1pm @ Cardiff Pond

- Edmonton Cup 2 : Saturday - August 13th from 9 to 1pm @ Telford Lake, Leduc Boating Club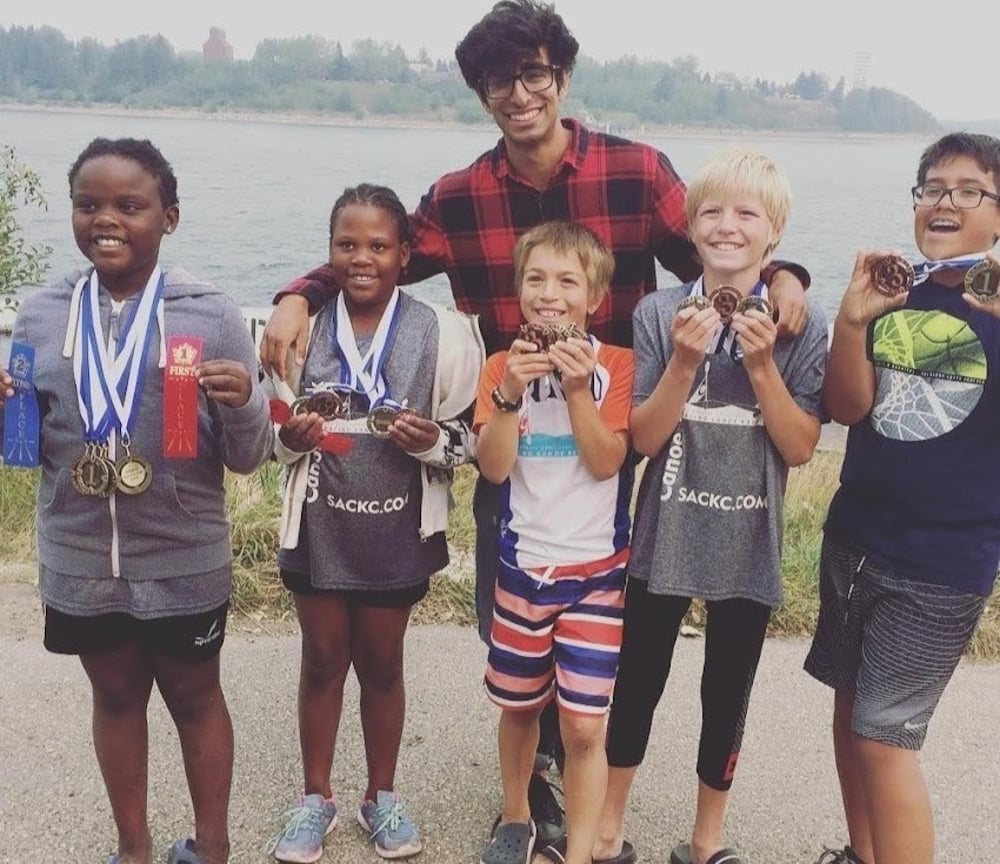 Frequently Asked Questions
Where is the Gr Edmonton Canoe & Kayak Club located?
Cardiff Pond: NEW LOCATION at Cardiff Pond adjacent to Cardiff Golf Club 55307-Range Road 251 Sturgeon county - We are south of the Golf Club at Cardiff Park
What are the regular summer camp hours?
The summer camp sessions run from 9 am until 4 pm. Please note that we do provide before and after care for children for extra fee. Our Staff will arrive at 8h45 and leave around 4h15pm
How can I register for the summer camps?
Please click on the Register button above. Please use our RAMP online system to submit your registration. You will receive a Registration Confirmation by email to confirm your registration. Your space is reserved upon receipt of payment and signed waiver forms.

Can I get a lesson prior to register to the training camp?
Absolutely! Lessons will be conducted in May and June – for more information please contact the club to book a private lesson for an extra fee: [email protected]
What are the payment options?
We accept credit card payments online through the RAMP system.
What is your cancellation policy?
Refunds will not be given for inclement weather! There is no refund available once the camp has started.
If cancellation is done at least 2 weeks before the start of the camp, then a refund will be issued less a $25 administration fee. If cancellation is done within 2 weeks prior to the start of the camp, a refund will be issued less 25% of the camp fee.
How does the daily attendance work?
Drop off in the morning is between 8:45-9:00am and pickup is at 4:00pm. On drop off, the paddlers' parents are to report to their child's Coach Leader to sign them in. The Bantam and Midget paddlers are to sign themselves with the Bantam Coach. Upon leaving at the end of the day, paddlers' parents please sign out so we can make sure our athletes get home safely.
What type of paddling activities do you offer at the club?
We do offer all sort of paddling activities such as: paddle board, Kayak, Canoe, Dragon boat, War Canoe and intro to sprint racing canoe kayak boats.
What happens in the event of inclement weather?
In the case of inclement weather, our coaches are prepared with occasional rainy day activities (i.e. active games, arts and crafts). We follow the Canoe Kayak Canada on water safety rules, for more information check our Safe Sport page
What happens in the event of continued rain?
When deemed unsafe by our Head Coach due to white caps, thunder or severe rain, the children will not be going on the water. If you do not have alternate arrangements for your children on these days, they are welcome at the club; however, we have limited space and therefore limited activities.
What should I bring to the summer camp session?
 Paddling shoes / sandals
 Clothes to paddle in (i.e. wetsuit, athletic shirt & shorts).
 Extra change of dry clothes
 Jacket or rain gear depending on the weather
 Lifejacket – All kids will be required to wear lifejackets. We have a lot of lifejackets at the club but if you have your own, you are welcome to bring it.
 Towel  Sunscreen  Hat  Packed lunch  Snacks  Water bottle
Please label all your personal belongings that are brought to the summer camp sessions.

Can my child get swimmers itch from the lake?
We have a clean lake, but it is possible to get swimmers itch if your child spends a fair bit of time in the water. We have found that a quick rinse with fresh water (rinse station) and towel drying minimizes the chance of getting swimmers itch.
Can I enroll my child in your performance program after the summer camp?
Absolutely! We strongly encourage you to speak to your summer coach or to the assistant head coach to give you more information about our performance programs. We will give you a Huge discount to sign up in our competitive program
Does my child have to participate in races?
All paddlers are encouraged to participate in the regattas, however, it is recognized that not everyone desires to compete. This is an individual choice that is best made between the parent and child with the input of the coach. Our Club offers a fun regattas each summer in August for campers. Please check our competition calendar and speak to our staff about your racing opportunities.
What is the Off-Season program?
The off-season program operates during the non-summer months and is designed for those paddlers who wish to continue training during the off season - Please speak to our staff about your winter training season.
How do I find out how my child is doing with paddling?
Our Camp Coordinator will be sending weekly newsletter to all campers. Please talk to the coach leading your summer group or speak to the camp coordinator to give all the information you need.
I have further questions or concerns?
We encourage parents/guardians to first speak directly to your childs' coach. If your concerns are not satisfactorily resolved, please speak to the Camp Coordinator person
Testimonials
What our customers write about us
My husband and I did a private 2-hour kayak lesson this weekend and it was money well spent. We got some great instruction with paddling skills and self-rescue. If you are looking for an amazing thing to do while visiting Edmonton, definitely book one of GERCKC lessons or, if you are experienced, do a rental. You won't be disappointed. We will come back for sure.
Our 8-year old son did the 5 Day CanoeKids Camp Full Day, with kayak in the morning and cooperative games fun in the afternoon and he had an absolutely fabulous time. It was one of his favourite camps ever; he rates it 20 out of 5 stars. The club staff members were great; the coaches were wonderful, very knowledgeable and experienced, and fun. Every evening he was excited about the next day. We signed him up for another camp this summer right away.